November 25th, 2009
by Laura Moncur
in
Quotations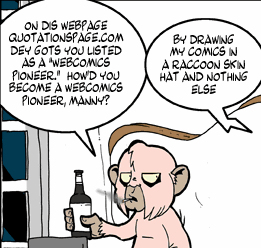 I love it when an author notices that he has been quoted by us. Randy K. Milholland noticed the quotes and two-word biography we wrote for him and mentioned it in one of his many webcomics. You can see the full comic here:
I have been a fan of Something Positive ever since my sister told me about it years ago. Over the years, I added my favorite of his quotations to our collection. You can read them here:
My all-time favorite quote is this one:
Typos are very important to all written form. It gives the reader something to look for so they aren't distracted by the total lack of content in your writing.
Thanks for the shout-out, Randy! Keep up the good work!
Leave a Reply