June 8th, 2009
by Laura Moncur
in
Literature
This postcard from PostSecret made me smile in recognition.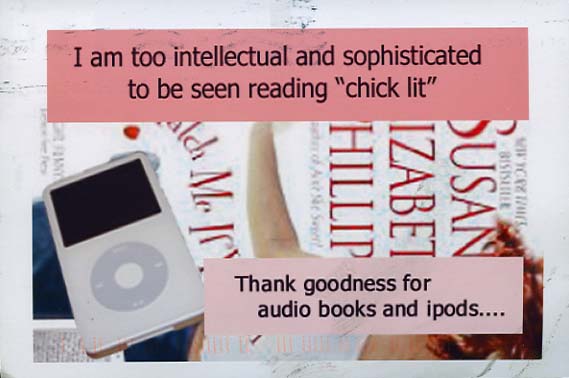 It reads:
I am too intellectual and sophisticated to be seen reading "chick lit."

Thank goodness for audio books and iPods…
This woman reminds me of myself just a few months ago. I finally had my romance novel epiphany. If you missed it, you can read it here:
In the end, I decided:
Reading romance novels shamelessly is a feminist act. It's celebrating literature written strictly FOR women. It's the one genre that has been tailored specifically to women, even in a male-dominated society. I should rejoice in reading romance novels and release the shame I've felt all these years.
I am so grateful that I'm not the only one who was hiding my book reading behind technology.
---
PostSecret's beneficiary is the National Hopeline Network. It is a 24-hour hotline (1 (800) SUICIDE) for anyone who is thinking about suicide or knows someone who is considering it.
Leave a Reply