May 22nd, 2009
by Laura Moncur
in
Literature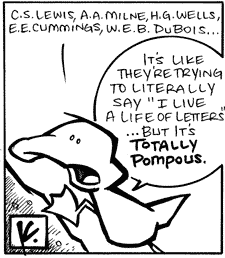 I love these comics from Sheldon accusing authors of being intentionally pompous:
Is all you need to be a successful fantasy author is a few extra initials in your name? I don't think so, but it certainly helps. It seems that book publishers today ARE naming their authors in order to conveniently place them near another author on the shelf. For example, the large proliferation of authors with names VERY similar to Jane Austen in the Victorian romance genre.
Maybe fantasy authors are specifically choosing their nomes du plume with extra initials to remind people of J. R. R. Tolkien. Adding a couple of initials to your current name makes you similar enough to Tolkien to be noticed without making your name sound exactly like his. It's different than naming yourself say, Elizabeth Aston, in order to have your books right next to the Jane Austen books. It's more of an indication to the reader what your book is going to be like, i.e. "Nerd Be Lovin' Books About Elves."
Here is a great article about how to choose a pen name:
She doesn't mention choosing a name to place your books near another, more famous, author. Nor does she suggest that adding a few initials to your pen name for your fantasy books might give you a little boost in sales. I think that in the future, when more book sales happen online instead of by people browsing through shelves of books at a bookstore, this fashion of using a pen name to strategically locate yourself near other authors won't be as common. Amazon's book recommendation features will indiscriminately recommend a book by Elizabeth Aston just as easily as one by Amanda Grange.
Soon, pen names will be MORE like the Tolkien variety and less like the Elizabeth Aston variety. Or maybe, here's a unique thought, authors will use their REAL names a little more often.
Leave a Reply