March 20th, 2008
by Laura Moncur
in
Literature
So many of my readers had recommended Twilight by Stephenie Meyer that I felt I really had no choice but to at least give the series a try. I got the book from my local library and read about fifty pages. I never got back to the book and the due date at the library came, so I returned it.
Then I found out that they are making a movie. They have hired the actors and Stephenie Meyer is doling out snapshots from the movie production on her blog:
When I saw the photograph of the Cullen Family, I KNEW I needed to read this book: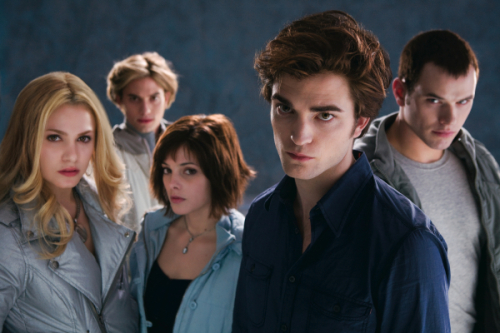 I have to say that I was pretty pleased with Twilight. I didn't realize that it was a romance novel with a vampire twist instead of a vampire novel with a love interest. The book spends a lot of time on the romance element, but it didn't leave the adventure side lacking. It just took two-thirds of the book to get to the exciting stuff.
Bella is going back to the rainy town of Forks. She had been living in Arizona with her mother for most of her life, but now she has been moved to live with her father. When she goes to school, she is surprised by the attention from everyone there and enjoys her newfound celebrity. The only group that doesn't want to get to know her are the Cullen kids. They sit alone at lunch and they don't associate with anyone, until Bella comes to town. Edward Cullen notices Bella and the school is abuzz with the gossip.
Little does she know that Edward, like the rest of his "siblings," is a vampire.
The writing in this novel was right on and involves all the senses. The narrative describes the scent and sights of Forks in such detail that I felt like I knew the town. When she describes the first time she can see the sun in Forks, I was flabbergasted:
I have had that very experience in other parts of the world. Everything will seem alright, but something will be wrong. Is it the shadows? Is it the sun? It usually takes me days to get used to where the sun should be in the southern part of our country. The sun just seems too high and too close.
Here are some of my favorite quotes from this book:
After devouring Twilight, I'm ready to eat my way through the rest of the series. I'll post reviews as soon as I finish them.
Leave a Reply