February 23rd, 2007
by Laura Moncur
in
Motivation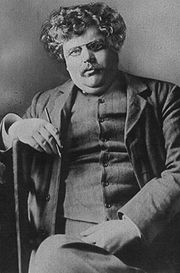 This quotation is ruthless. Ideas like this can stop you in your tracks. If you have ever wanted to write a novel, don't let G. K. Chesterton scare you away. Don't worry about writing a bad novel. Do it! Write your bad novel! Then write another one. There are some authors who have made an entire career out of writing bad novels.
The "truth" that Chesterton is talking about is one thing: you are a WRITER. If you weren't, you wouldn't have been able to finish that novel.
So, stop trying to write the perfect novel, short story, poem or even email. Just write it and FINISH it.
Anyone who has read The Ballad of the White Horse knows not to take anything that Chesterton says too seriously.
4 Responses to "Don't Worry About Writing A Bad Novel"
Leave a Reply