May 29th, 2006
by Laura Moncur
in
Links
,
Quotations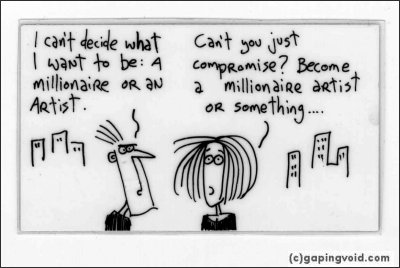 Hugh Macleod draws comics on the back of business cards. It's a creative outlet that works well for him and now, it is finally paying off. Back in August of 2004, he wrote a 31-item list entitled "How To Be Creative."
This list is a treasure chest of good advice. Some of my favorite quotations are here:
See all the Hugh Macleod Quotations Here:
2 Responses to "How To Be Creative"
peoppenheimer Says:
June 1st, 2006 at 12:25 am

Find out for yourself.

sigsfried Says:
June 6th, 2006 at 5:46 pm

Quite a good list. Mostly apply to anything not necessairly artisitc or creative but some aren't relevant elsewhere.
Leave a Reply