January 26th, 2006
by Laura Moncur
in
Biography
,
TV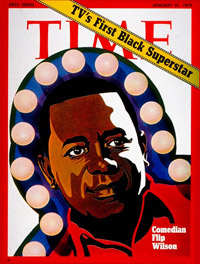 In 1973, Time Magazine named Flip Wilson as television's first black superstar. I was four years old. From my point of view, I didn't really understand that Flip Wilson was a black man. He seemed like a funny guy and he made my parents laugh when they watched Laugh-In.
He later got his own show, The Flip Wilson Show. I remember my parents being really excited that he got his own show and we sat down to watch it each week. Now, I can see that he won a Golden Globe for that show. Back then, I paid no attention to accolades and awards. I just watched what my parents thought was funny.
I barely remember seeing Flip Wilson say any of his funny tag lines, but they are so ingrained into our language now that many of you probably quote him every day and didn't even know it.
As a child, I remember quoting Flip Wilson whenever I got into trouble, "The devil made me do it." As long as the transgression wasn't too foul, it was always enough to get me out of trouble. The adults would laugh and I would try to blink my eyes like Flip Wilson did. I know now that he was performing the universal "innocence" look with those eye blinks, but all I was doing was copying a great man.
To learn more about Flip Wilson:
See all of Flip Wilson's Quotations Here:
Leave a Reply