December 21st, 2005
by Laura Moncur
in
Holidays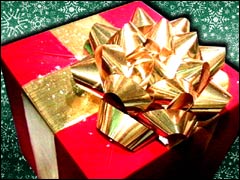 If you are stressing over a gift, remember this quote. It will help you decide where your heart is in this matter.
For me, the hardest gifts to fathom were coworker gifts. There were some coworkers that I really appreciated and I wanted to give them a little something at Christmas time. Then again, I didn't want anyone to feel left out. I always felt kind of crappy when I noticed that other people got gifts and I was forgotten, and I didn't want to make anyone feel like that. Then again, I felt horrible when I would get a gift and I didn't have one to reciprocate. I didn't want to forget the people I really appreciated, though. It was a wretched never-ending circle of thought that ended with me buying the same tiny boxes of chocolates for everyone, even the best people.
In the end, now that I'm gone from that office, what do I wish I did? Do I even care about those people I was so worried about "leaving out"? Now that I'm gone, do I worry about those people who did an exceptional job? No and no. I was open enough with my praise that the good people knew they were good. In the end, I should have just stopped worrying about all those coworker gifts and spent more time enjoying the holidays.
One Response to "Stressing Over That Gift?"
strunny Says:
December 23rd, 2005 at 12:34 pm

hey, i read this & your post a few posts back about gift-giving. i too have run in to this issue, and gone through all the same feelings re: co-workers. so i am really thankful to work now at a place where everyone feels this way & we all recognize that, so instead of buying things for each other (we all have enough stuff anyway right?) we now adopt a family, or do toys-for-tots or whatever, to reach out to others. it solves all these problems! and since christmas started with jesus, god's ultimate gift to humanity… that's really what is actually about anyway. so giving gifts to the poor & lost & those less fortunate, who he ministered a lot to while here (physically), makes more sense anyway, to me at least. merry christmas and god bless you! -sarah
Leave a Reply