Amazing Grace's Eclectic Quotation Collection
I have been working on my quote collection for over 30 years, and since 1986, when I got my first computer, I have organized these quotations into over 1600 categories. Unlike Bartlett's Familiar Quotations, I have ordered these quotations into categories by subject, which allows you to find all the familiar sayings on a topic in one place.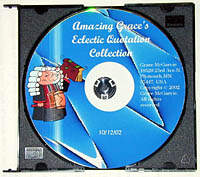 I call my work "Amazing Grace's Eclectic Quotation Collection." 99% of all quotes which have been posted on alt.quotations newsgroup over the past 3 years are included. I have planned, over the past 5 years to offer this Reference "book on a disc" for sale on CD-ROM, but had difficulty coming to that conclusion because: "A book of quotations - can never be complete." Robert M. Hamilton. I have decided to now offer you access to over 100,000 quotes in over 1600 categories on your computer. The text will occupy about 15MB if transferred to your hard drive.
The text is available in either Microsoft Word Document (DOS), Appleworks (for Macintosh) or plain text. (Please specify).
Note: I have this CD-ROM and it's truly impressive, just as massive and comprehensive as advertised. It's remarkably free of typographical and attribution errors and has a great number of quotes you won't find elsewhere. A very useful reference for anyone who enjoys quotations. Give it a try!
-- Michael Moncur, The Quotations Page
HIGHLIGHTS
100,000 quotations, proverbs. etc. by people of all philosophies, ages and cultures.
Over 10,000 authors, 1600 categories.
Search quotations by word, phrase, author, source, category via your computer's word processing program "find" function.(All categories are in CAPITAL LETTERS to facilitate your searching by case sensitive mode.)
Ability to add your quotations or correct any errors (I think they are few, but even Bartlett's has errors).
Ability to Print, copy and paste easily with your own word processing program.
Format: Word Processing, 1600 Categories in Alphabetical order, with each category alphabetically ordered by author's last name, followed by Anonymous and Proverbs.
PURCHASE INFORMATION
The price: $30.00, plus (6.5% Sales Tax for Minnesota residents = $2.08) $2 (USD) Shipping and Handling (in U.S.A.). International Orders - make e-mail contact to work out delivery. Please mail personal check to address below. This will work out to about a 2 cent per hour reimbursement for my hobby!

For more information or a free sample of one category

Enjoy reading!!!!!

Grace McGarvie
18520 23rd Ave. No.
Plymouth,Mn. 55447 U.S.A.
Tel. 763-473-8013





// third column for skyscraper ads ?>