Quotation Book Reviews
Browsing Category: Quotations by Specific Authors

Showing items 11 to 17 of 17 total books.

Oscar Wilde's Wit and Wisdom
by Oscar Wilde
In this collection of nearly 400 Oscar Wilde quotations, you will find the very best of Wilde's quips on numerous subjects. It's small and cheaply printed, but what do you expect for a dollar?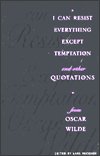 I Can Resist Everything Except Temptation
by Oscar Wilde, Karl E. Beckson
Another collection of Oscar's best quotations. Over 1000 quotes. Each entry includes a source citation, which is great for those who haven't read his works and don't want to resist the temptation of reading them in full.

Shakespeare's Insults : Educating Your Wit
by William Shakespeare, Wayne F. Hill, Cynthia J. Ottchen (Contributor)
Before Winston Churchill, Dorothy Parker and Oscar Wilde, there was William Shakespeare. Here are 5,00 ways to verbally maim your adversaries. Want positive and loving quotations? Look somewhere else.

A Dictionary of Quotations from Shakespeare
by William Shakespeare, Hugh Rawson, Margaret Miner
"A Topical Guide to over 3,000 Great Passages from the Plays, Sonnets, and Narrative Poems" Over 3,000 quotations are organized by over 400 subjects. Includes a complete index, tons of historical notes and explanations.

The Essential Gandhi
by Louis Fischer
"An Anthology of His Writings on His Life, Work, and Ideas" - a compilation of Gandhi's writings throughout his life.

Bite-Size Jane Austen
by Jane Austen, Karin Baji, Karen Baji, John P. Holms
"Sense & Sensibility from One of England's Greatest Writers" If you enjoy the Jane Austen quotations in our collections, you'll like this collection of her writings in convenient bite-sized pieces.

The Importance of Being a Wit : The Insults of Oscar Wilde
by Oscar Wilde, Maria Leach (Compiler)
Oscar Wilde was the master of the studied insult. His jabs at hypocrisy, pretense, and boring conventionality still have a penetrating power. His snubs and put-downs became the talk of his time, no less by his targets than by Oscar Wilde himself. This collection features over 750 biting comments gathered from the master's works.